Annie Hagvil
The Weight of Nature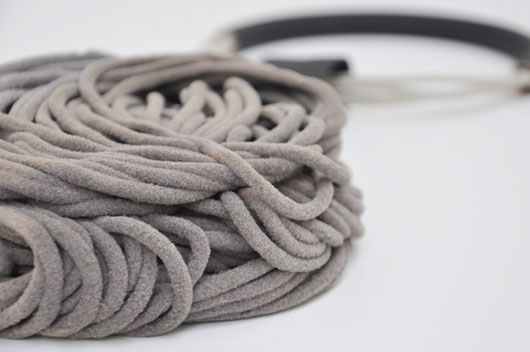 The relation between humankind and nature is distorted. We have created a gap in both a physical and emotional way. There is an imbalance that I think affects us much more than we know.
By visualizing our conscience towards nature I have materialized my interpretation of something invisible but to a varying degree present. My work is a simplification of a twisted relation that is hard to grasp, dealing with greed and grief, power and powerlessness.
As awkward tools that you don't know how to use or wear. As sad trophies that are heavy to carry.
Förhållandet mellan människan och naturen är förvrängt. Det har skapats en både fysisk och mental distans och en obalans som jag tror påverkar oss mycket mer än vi tror.
Genom att gestalta vårt samvete gentemot naturen har jag skapat min bild av något osynligt men i olika grad närvarande. Mitt arbete är en förenkling av en förvriden relation som är svår att greppa. Ett skadat förhållande som handlar om girighet och sorg, makt och maktlöshet.
Märkliga verktyg som man inte vet hur man ska använda eller sorgliga troféer som är tunga att bära.
Year of birth: 1985
Place of birth: Motala, Sweden