Ida Bentinger
Den yttersta domen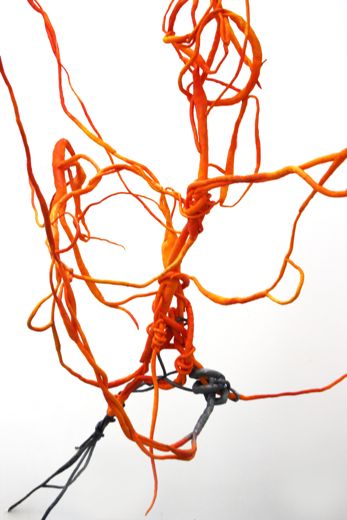 My bachelor's degree project deals with a stuy of "The Last Judgement" as a philosophical concept.
I see the "Last Judgement" as an interesting caption in the struggle against fear that plays out in people's consciousness, and which impels us to good deeds and bad. For me, the "Last Judgement" is an ongoing metaphoric condition. By directing our consciousness to choose between positive and negative energies, we influence ourselves and others.
The formula is simple: I choose the positive and good. The problem is just knowing what is right and what is wrong. This is where the spiritual struggle begins. This is what I was interested in portraying in my project.
Mitt kandidatarbete handlar om en undersökning av "Den yttersta domen" som filosofiskt begrepp.
Jag ser den "Den yttersta domen" som en intressant rubrik på den kamp mot rädslor som utspelar sig i människors medvetande, och som driver oss mot onda och goda gärningar.
För mig är "Den yttersta domen" ett metaforiskt och pågående tillstånd. Genom att styra vårt medvetande att välja mellan positiva och negativa energier påverkar vi oss själva och andra.
Formeln är simpel, jag ska välja det positiva och goda. Problemet är bara att veta vad som är rätt och fel. Det är här den själsliga kampen börjar. Den som jag har varit intresserad av att gestalta i mitt kandidatarbete.
Year of birth: 1979
Place of birth: Morup, Sweden
Phone: 0046705734228