Young Geum Cho
Performing Shell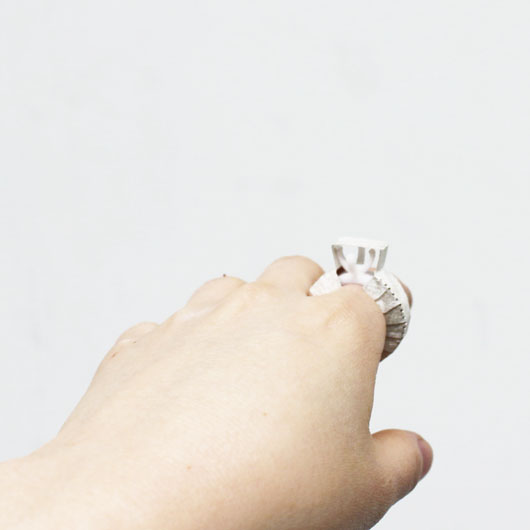 Once, I asked a shop assistant in a Tiffany's store if I could get one of their boxes. The assistant flustered. I actually expected such reaction as I knew that the package nowadays is not a mere wrapping box.
Packaging is regarded as being as significant as the actual substance of commercial products. Even more so, packaging has become more significant than the actual content.
I combine jewellery and packaging in my jewellery work in order to make my own statement about the relationship between surface and substance in commercial culture.
With my artistic statement about packaging, I am shaping a critical discussion on the overwhelming illusion of consumption related to brand myths in commercial culture.
En gång frågade jag en expedit i en Tiffanybutik om jag kunde få en av deras askar. Expediten blev förvirrad. Jag förväntade mig i och för sig en sådan reaktion eftersom jag visste att förpackningen nuförtiden inte bara är en enkel låda.
Förpackningen betraktas som lika viktig som det egentliga kommersiella innehållet. Det är till och med så att förpackningen har blivit viktigare än det egentliga innehållet.
Jag kombinerar smycken och förpackningar i mitt smyckesarbete för att kunna framföra min egen uppfattning om relationen mellan yta och substans inom den kommersiella kulturen.
Med mitt konstnärliga uttryck om förpackningen skapar jag en kritisk diskussion om konsumtionens överväldigande illusion i förhållande till märkesmyter inom den kommersiella kulturen.
Year of birth: 1984
Place of birth: Busan, South Korea
Phone: +46 73 906 3045