Miwa Akabane
Pieces of Wood. Pieces of Daily Life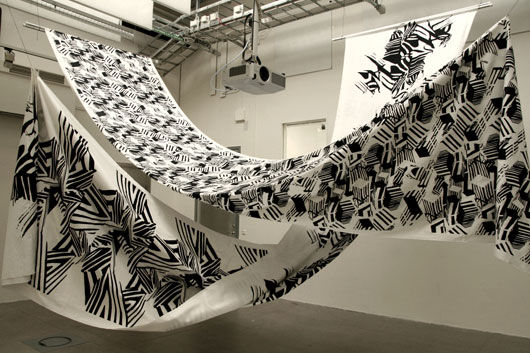 The pattern of storytelling is an endless chain of imagination. The story continues to narrate while transforming its appearance. The viewers connect their personal memories with the design which makes the differences in reaction. Storytelling is a succession from designer to viewer, as if to draw a spiral.
Pieces of Daily Life is a point of departure for the endless chain of imagination. I narrate a story of it in a textile pattern.
One day, I took pieces of wood. They had lines on their surface. Each line had a unique shape because they were a part of an annual ring. I saw them like a human fingerprint. There was nothing the same. Daily life as ordinary, but special days. There is nothing the same in a usual day.
Berättandets mönster är en oändlig kedja av fantasi. Berättelsen fortsätter att berätta sig samtidigt som den förändrar sitt yttre. Betraktaren kopplar samman sina personliga minnen med designen, vilket ger skillnaderna i reaktioner. Berättandet är en succession från designern till betraktaren, som om man ritade en spiral.
Pieces of Daily Life är en startpunkt för fantasins oändliga kedja. Jag framför en berättelse om detta i ett textilmönster.
En dag tog jag ett trästycke. Det hade linjer på ytan. Varje linje hade en unik form, eftersom den var en del av årsringarna. Jag uppfattade dem som ett mänskligt fingeravtryck. Där fanns inget som var det andra likt. Vardagen som ordinära, men speciella dagar. Där fanns inget som var detsamma som i en vanlig dag.
Year of birth: 1977
Place of birth: Tokyo, Japan
Textile in the Expanded Field