Pavel Fiorentino
With everyone's imagination atrophied, no one will ever be a threat to the world.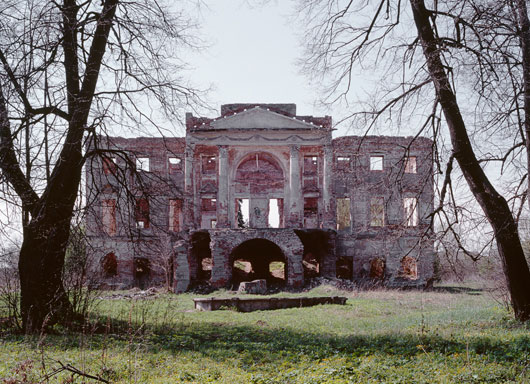 This work started with questions about nostalgia and then continued as an investigation into the notions of the gaze and the poetic image. Employing simple tools in the form of photographic and sonic evidence, this project also reflects on nostalgia's emotional relatives such as melancholy and even boredom, "the root of all evil — the despairing refusal to be oneself,"* a taboo and a sign of failure in the Experience Economy driven society.
The work stems from personal reflections on the abandoned countryside estates ("usad'ba" in Russian) in the Moscow area, built primarily between the 18th and early 20th centuries. These either permanent or summer residences of wealthy Russian families were appropriated by the Soviet State after the 1917 revolution. They were often converted into hospitals or recreational facilities and many were eventually left to dilapidate.
* = Søren Kierkegaard
Det här verket startade genom frågor kring nostalgi och fortsatte sedan som en undersökning av föreställningen om blicken och den poetiska bilden. Det här projektet använder enkla verktyg i form av fotografier och ljudbilder och reflekterar även kring nostalgins känslomässiga släktingar som melankoli och till och med uttråkning, "roten till all ondska – den desperata vägran att vara sig själv"*, ett tabu och ett tecken på misslyckande i det Experience Economydrivna samhället.
Arbetet utgår från personliga reflektioner kring övergivna lantställen ("usad'ba" på ryska) i Moskvaområdet, byggda huvudsakligen mellan 1700-talet och det tidiga 1900-talet. De här antingen permanenta bostäderna eller sommarresidensen ägdes av förmögna ryska familjer och beslagtogs av den sovjetiska staten efter revolutionen 1917. De konverterades ofta till sjukhus eller fritidsanläggningar och lämnades till slut att förfalla.
* = Søren Kierkegaard
Year of birth: 1980
Place of birth: Moscow, Russia
Phone: +46709679888