Marta Beckman
Designdjungel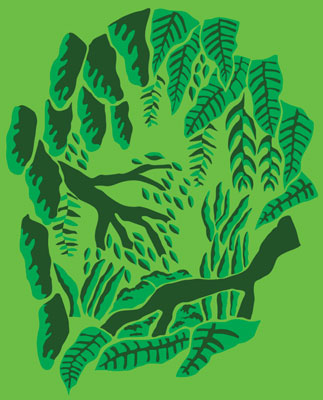 How does one navigate through the jungle of design? How can you come out of a creative process strengthened?
I am producing a pattern collection and, with the help of design methodology, I want to be aware of how I work and what my process looks like.
Previously, I thought I that if I were directed, it would stifle my creativity.
But if anything, it's the other way around – when I have a framework to work against, I can be free.
If I can organise my work systematically and clearly for myself, my creative side grows.
I want to improve my sense of locality in order to dare to go down new, uncharted paths.
Hur navigerar man sig genom designdjungeln? Hur går man stärkt ur en kreativ process?
Jag tar fram en mönsterkollektion och vill med hjälp av designmetodik bli medveten om hur jag arbetar och hur min process ser ut.
Tidigare tänkte jag att om jag blev styrd skulle det kväva min kreativitet.
Men det är snarare tvärtom, när jag har ramar att jobba emot kan jag vara fri.
Om jag kan lägga upp mitt arbete systematiskt och tydligt för mig själv så ökar mitt skapande.
Jag vill förbättra mitt lokalsinne för att våga gå nya outforskade vägar.
Year of birth: 1988
Place of birth: Stockholm, Sweden
Phone: +46 (0)76 8184406